Regular price
$950.00 USD
Regular price
Sale price
$950.00 USD
Unit price
per
Sale
Sold out
Download / print
Share
"Echo" By Johnny Friedlander is an expressionist abstract artwork that encapsulates the essence of sound. Through an interplay of broken lines and curves and a restrained palette of colors, the artist captures the elusive concept of echo transformed into visual form.

The meticulous process employed in creating this piece involves using aquatint and etching in colors on wove paper. This method, akin to the resonance of sound breaking through silence, mirrors how acid eats into the printing plate, resulting in visually sunken areas that mimic the spatial dimensions created by an echo. The technique breathes life into the artwork, allowing it to pulsate with an almost palpable energy.

The Artist Proof is signed in the lower right corner and marked EA (épreuve d'artiste, or Artist's Proof). Aquatint, with its ability to sculpt tonal effects by etching into the printing plate, works in harmony with embossing, which imparts a tactile, raised effect to the surface. Together, these techniques invite the viewer to immerse themselves in exploring the auditory and visual realms.

At the heart of "Echo" lies a nuanced color palette that further amplifies its sensory resonance. A commanding vertical block of muted red asserts its presence, giving the composition a subtle but powerful warmth. Below and behind a veil of darkness, a faded blue emerges, adding depth and dimension, evoking the ethereal quality of distant echoes. On the colorful parts of the artwork, subtle strips of gold strokes dance, suggesting the ephemeral nature of higher frequencies within the sonic spectrum. These golden accents, like glimmers of light, punctuate the composition, creating a dynamic interplay between the visual and the auditory. Amidst this symphony of colors and forms, a large horizontal white block disrupts the silence, cutting through the layers with an assertive presence. This bold interruption is a visual crescendo as if the echo has reached its zenith.

The painter Johnny Friedlaender was a passionate graphic artist and a pioneer of modern color etching. He broke the traditional etching technique and supplemented it with his style, refined by constant experimentation. Many important artists learned to use his technique in his workshop in Paris. He was best known for his pioneering use of aquatint etching.

Born in Germany, Friedlaender attended the Academy of Arts in Breslau, where he studied lithography and etching. After Friedlaender fled his native Pless to Wroclaw in 1921, he began studying at the Academy of Fine Arts. He graduated with a master's degree from Expressionist artist Otto Mueller, who belonged to the renowned artists' association "Die Brücke." In this early creative phase, Friedlaender worked mostly with etching in all its variants.
In 1930, he moved to Dresden, where his work was included in group exhibitions at Galerie J. Sandel, and, in 1936, he traveled to Czechoslovakia, Switzerland, Austria, France, and Belgium.

Due to his flight from the war, a period followed with many changes of location before he finally emigrated to Paris with his wife in 1937 after fleeing Nazi Germany. There, he worked through etchings and watercolors for a literary weekly newspaper and successfully participated in group exhibitions curated by Gaston Diehl. In 1948, another exhibition followed in Copenhagen. In the years that followed, Friedlaender gained international attention through numerous exhibitions in metropolises such as Tokyo, the Triennale in Milan, the Biennale in Sao Paolo, San Francisco, New York, and ultimately at the Tel Aviv Museum of Art and in Paris.

His early works, which still had an expressionist feel, became more graphic and abstract. In 1956, he finally received a professorship at the Salzburg Academy of Art. He had the honor of exhibiting alongside giants like Braque, Buffet, Chagall, Dali, Matisse, Miro, and Picasso in a 1972 Dusseldorf exhibition. A few years before his death, the Kunsthalle Bremen dedicated a major retrospective to Johnny Friedlaender in 1987. To this day, his unique color etchings are gaining worldwide recognition.
REFERENCE NUMBER: LU654313223402
PERIOD: 1960-1969
CONDITION: Good
MEASUREMENTS: Height: 34.5" Width: 26.5" Depth: 0.5"
COUNT: 1
MATERIAL: Etching, Paper
CREATOR: Johnny Frielaender
View full details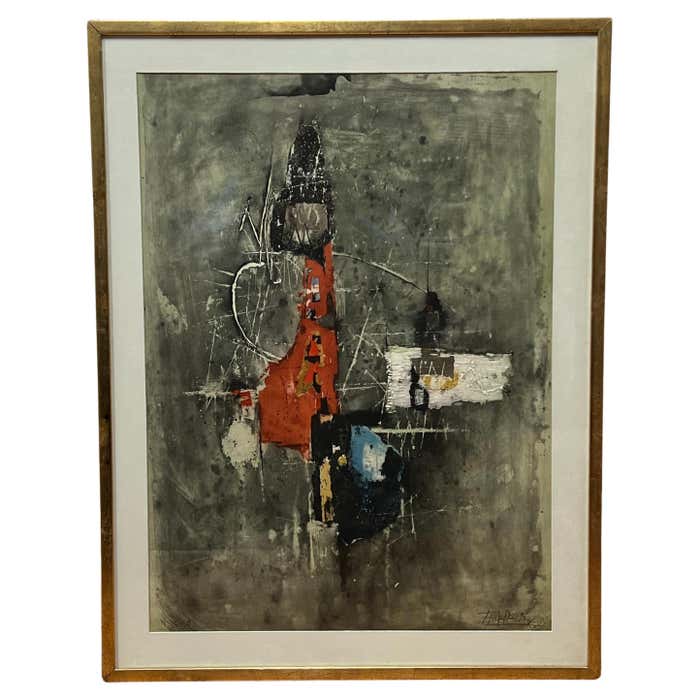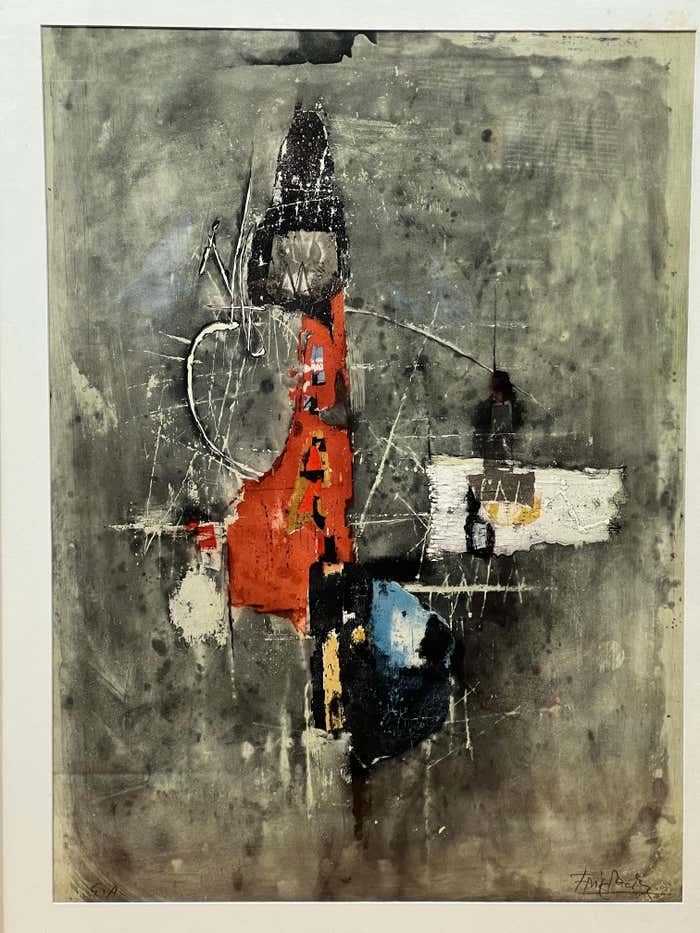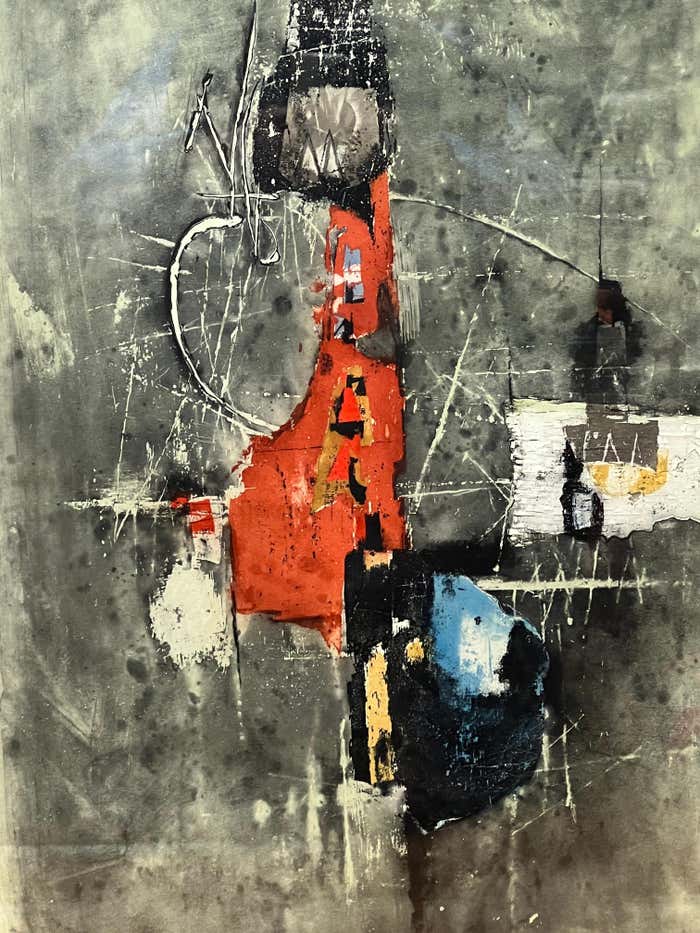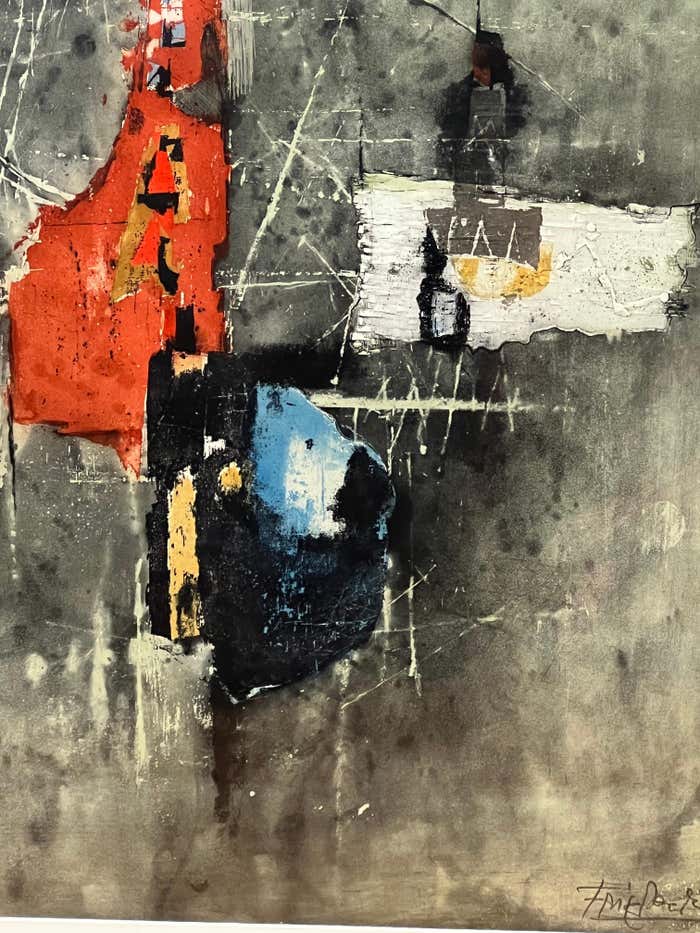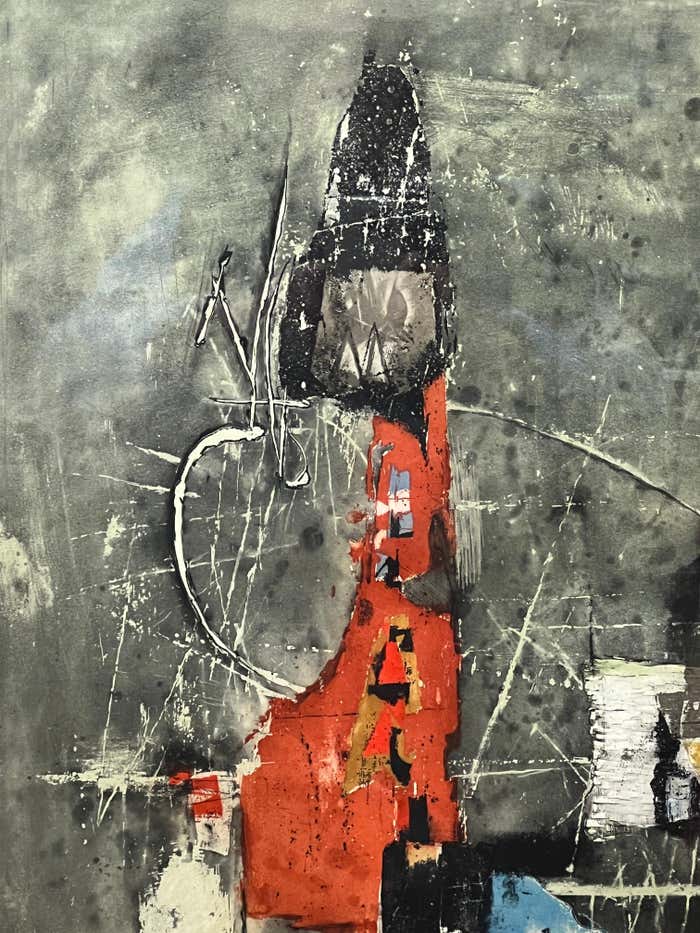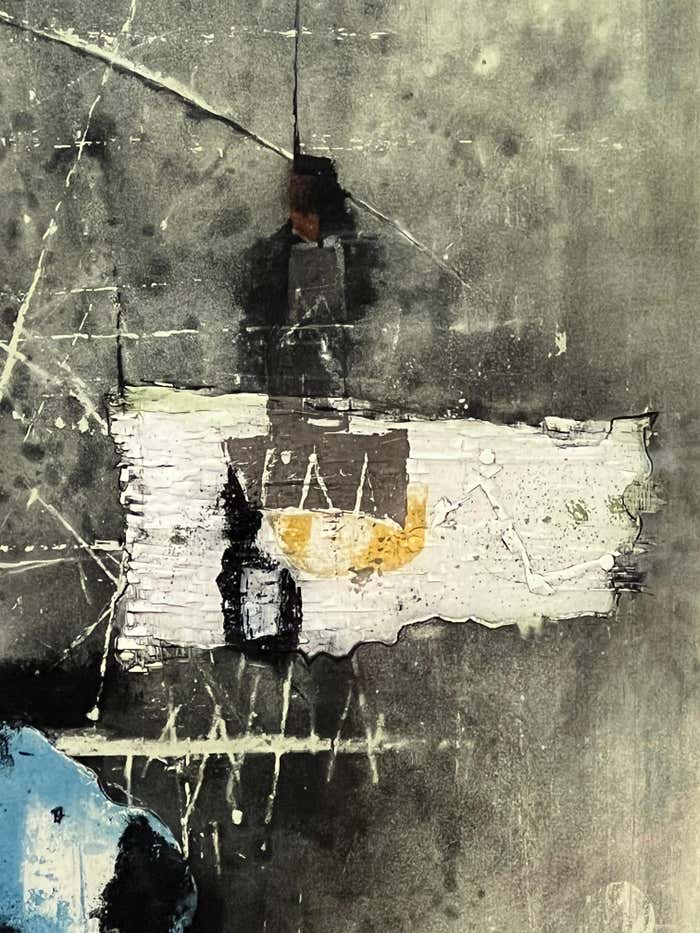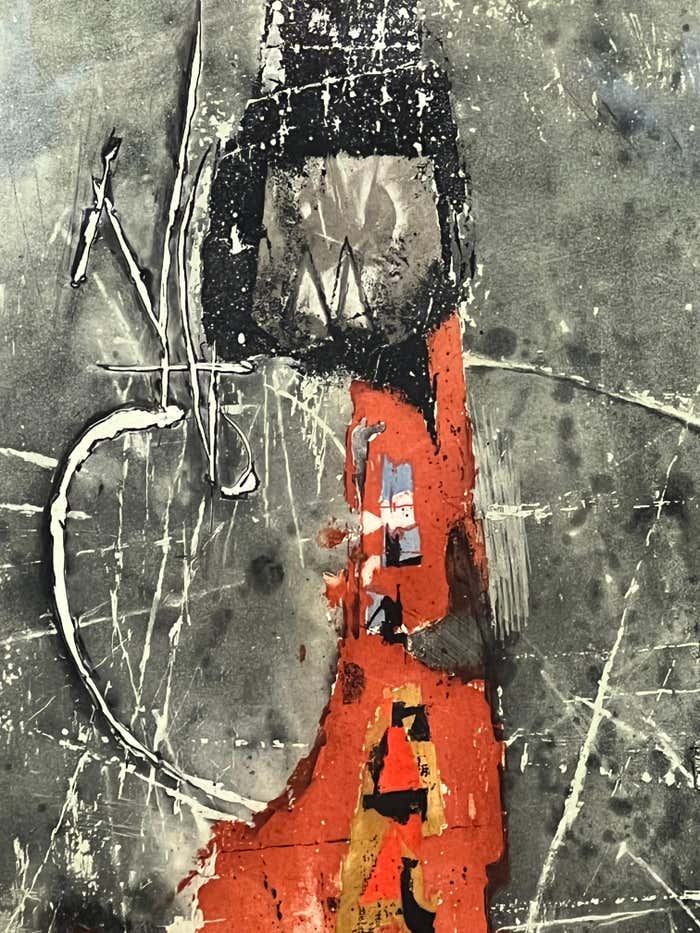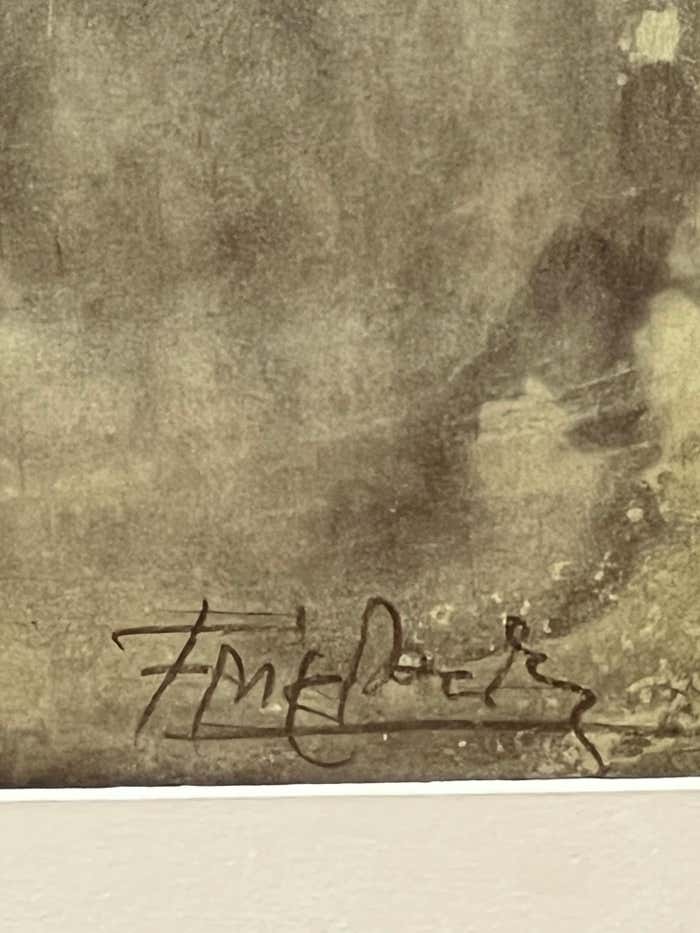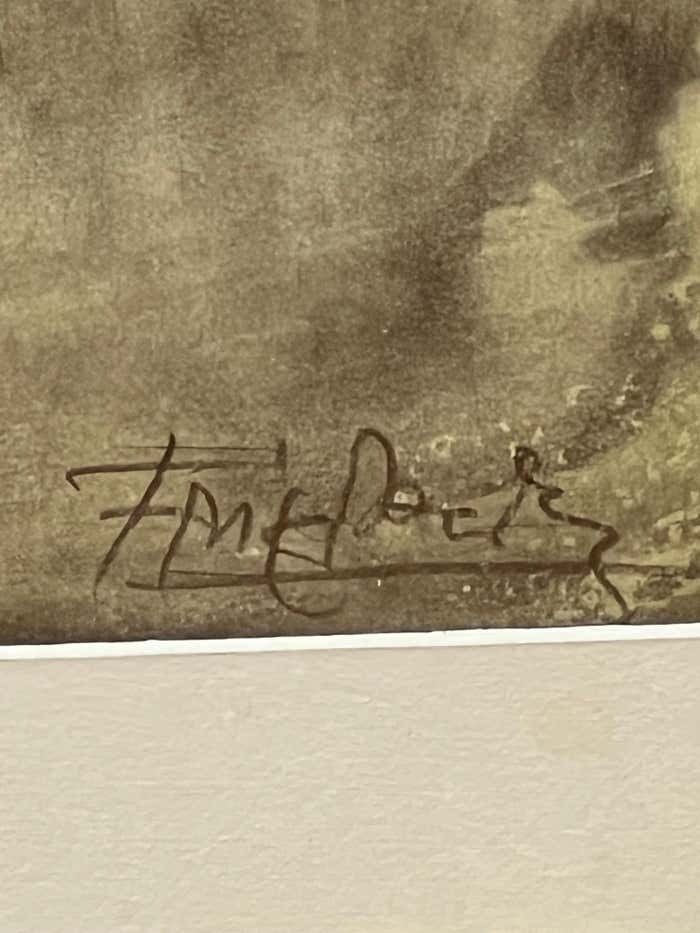 Shipping

Shipment is arranged through recognized carriers such as UPS, FedEx, and DHL. Only pieces that can be safely packed in a box or envelope may be shipped via parcel. Shipping charges start at $49 — and vary based on the size, weight, packaging and the value of the item. Text (310) 531 7594 or call (310) 754 9494 to get a quote.

Returns

A return for this item may be initiated within 3 days of delivery.

*Return Shipping Fee

A restocking fee of 15% of the item price applies.

Buyer is responsible for return shipping charges and will not be reimbursed for the original shipping cost.

Additional Notes

Items must be returned in the same condition it was received otherwise restoration costs will be billed up to the full value of the item. Return shipment must be insured for full value.